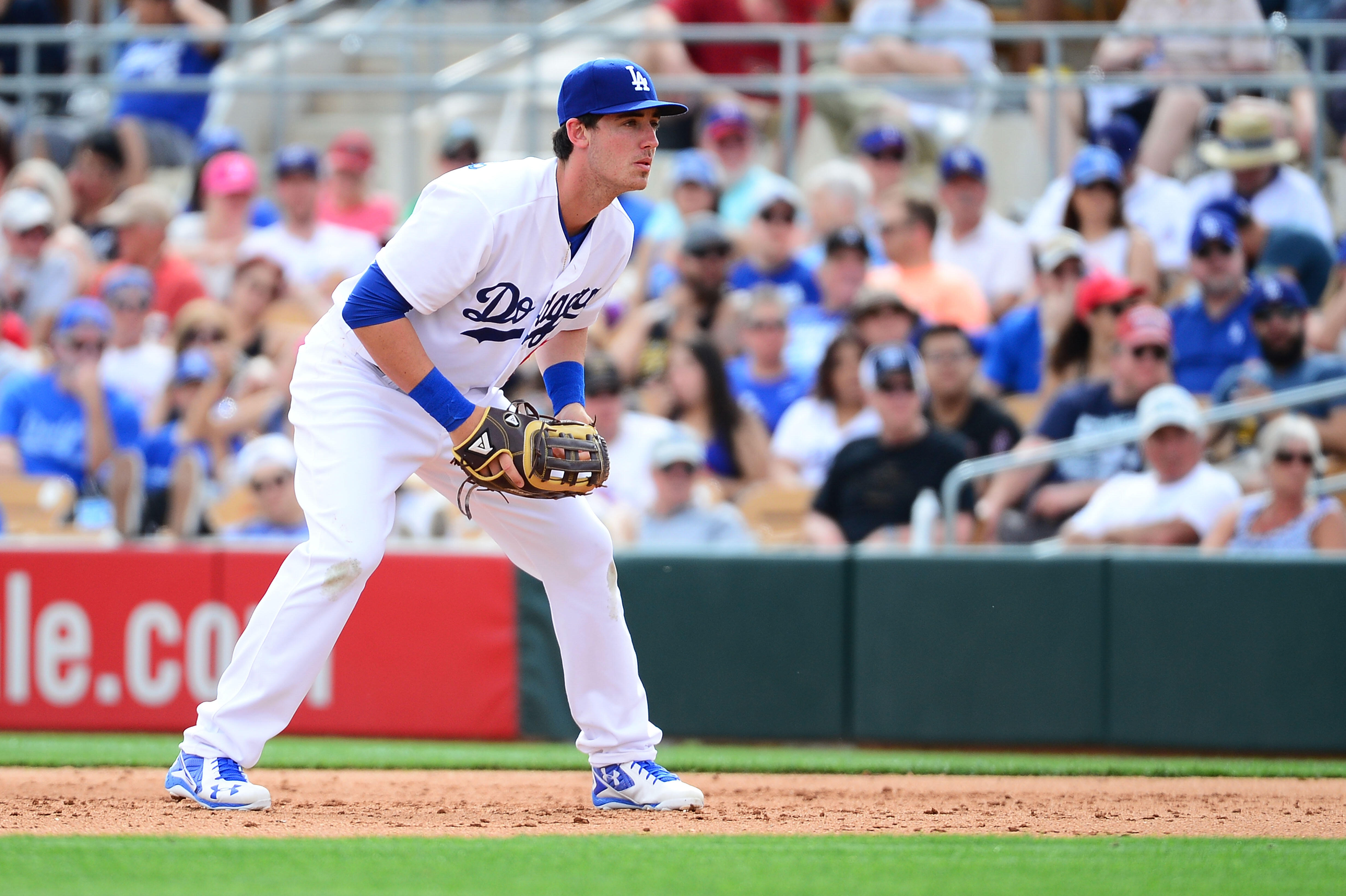 With prized prospect Cody Bellinger waiting in the wings to eventually replace five-time All-Star Adrián González, the Dodgers' outlook at first base is remarkably bright.
The optimism surrounding Bellinger's inevitable arrival is built upon hope that he can evolve into one of the game's elite first basemen. MLB.com seems to believe such is a possibility, ranking Bellinger as the top prospect at his position entering the 2017 season. Judging by the 56 home runs he belted while rising from A+ Rancho Cucamonga to Triple-A Oklahoma City in the past two years, along with compiling 163 runs, 174 RBIs and 18 stolen bases during this span, arguments to this claim are few and far between.
Dodgers fans will be able to catch a glimpse of their first baseman of the future in Spring Training this year. When it comes to the regular season, however, the outfield appears to be Bellinger's best shot to make an immediate impact.
According to AM 570 LA Sports' David Vassegh, a crowded roster will prevent Bellinger from beginning the season in the majors. As the year progresses, though, there is a possibility that Bellinger finds himself as a contributor on the MLB level.
Fortunately for the Dodgers, Bellinger has a lifetime of experience in the outfield that will serve as a benefit with González, Scott Van Slyke and Chase Utley likely set to dominate the playing time at first base.
"I played outfield my whole life," Bellinger told Vassegh on DodgerTalk this week. "I started playing first base my junior year of high school, and that kind of came natural. So when they told me to play outfield two years ago in Rancho, I was all for it. It was kind of like riding a bike."
Vassegh reports that Bill Haselman, Bellinger's manager with the Triple-A Oklahoma City Dodgers, is 'very confident' in his ability to handle both left and center field. Belinger's above average arm makes him a serviceable fit in the corner outfield particularly. And although speed is a concern for center field, his instincts prevent him from being a significant liability.
Bellinger's path to stardom clearly lies in the infield. By multiple accounts, he possesses gold glove potential at first base, and he is such a natural at the spot that it is impossible to discern that he has only spent a few years at the position.
For the meantime, though, this versatility has accelerated his road to becoming an impact player on a contending Dodgers team.
Listen to Cody Bellinger's full interview with David Vassegh below.
Photo Credit Getty Images