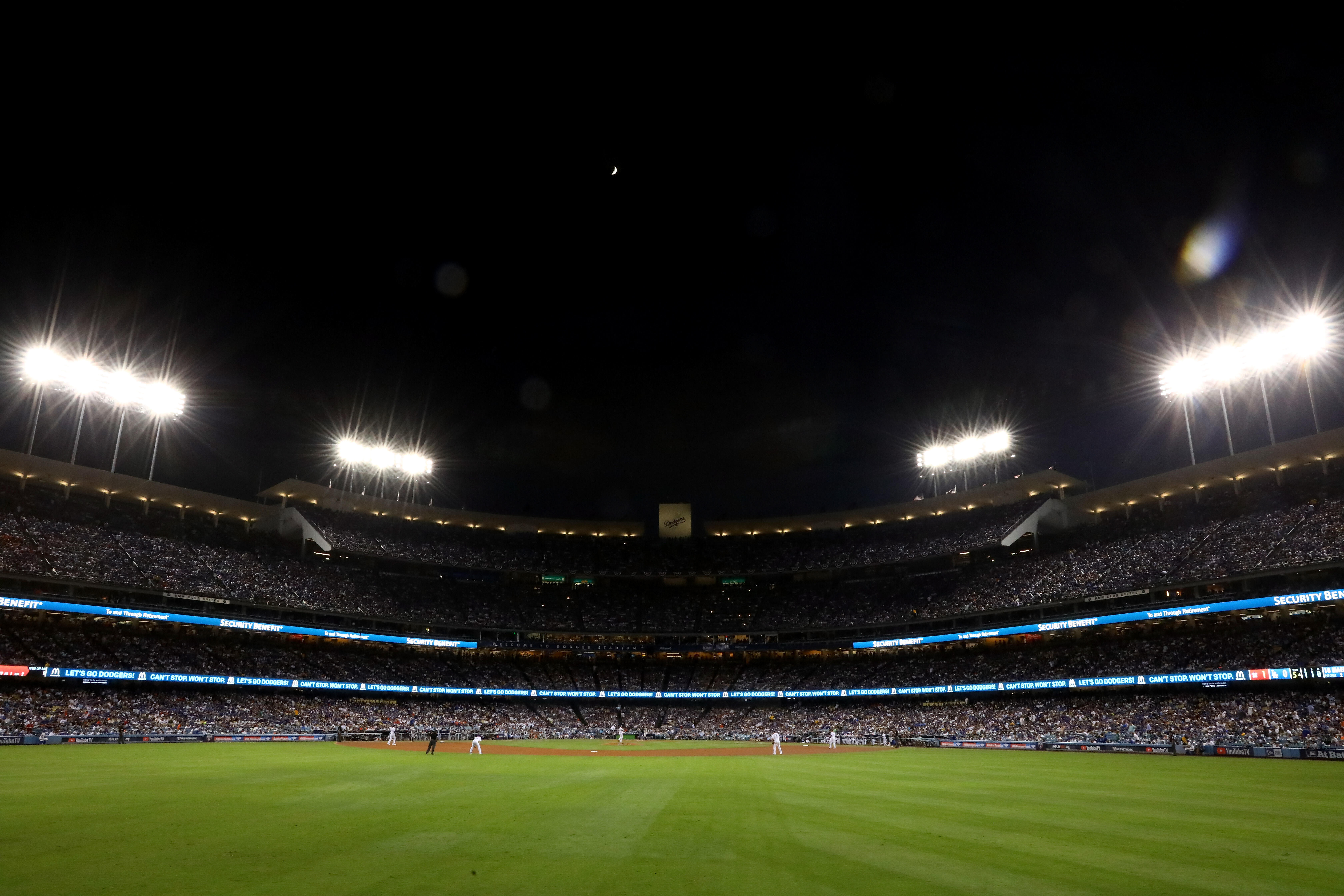 The Los Angeles Dodgers kick off their 2018 season at home on Thursday against the hated San Francisco Giants, with first pitch set for 4:10pm.
AM 570 LA Sports is bring you unparalleled Dodgers access all season long, starting with four hours of Opening Day pregame coverage live from Dodger Stadium.
Our Dodgers Opening Day broadcast will get underway at noon with Fred Roggin, Rodney Peete, Petros Papadakis and Matt "Money" Smith broadcasting from the field for three hours. Tim Cates will host Dodgers on Deck from the left field pavilion, starting at 3pm and leading up to first pitch.
Left-handed ace Clayton Kershaw will take the mound for the Dodgers, while left-hander Ty Blach will get the start for the Giants. Four-time All-Star Madison Bumgarner was originally set to face the Dodgers on Opening Day, but a broken left hand now has the hard-throwing lefty sidelined for at least a couple months.
The Dodgers and Giants ended 2017 on complete opposite ends of the spectrum in terms of success. The Dodgers enjoyed their winningest regular season since moving to Los Angeles, finishing the year with a 104-58 record, running away with the NL West title on the way to the team's first National League Pennant since 1988. The Giants, meanwhile, finished 40 games back of the Dodgers at 64-98.
Here is a look at our full Dodgers Opening Day broadcast schedule.
12-3pm: Fred Roggin, Rodney Peete, Petros Papadakis and Matt "Money" Smith from the field
3-4pm: Dodgers on Deck with Tim Cates
4:08pm: First Pitch
Don't forget to stay tuned after the game for Dodger Talk with David Vassegh!
Below is the Dodgers broadcast schedule for March and April:
March 29: Dodgers vs. Giants (4:08pm first pitch, 3pm Dodgers on Deck)
March 30: Dodgers vs. Giants (7:10pm first pitch, 6pm Dodgers on Deck)
March 31: Dodgers vs. Giants (6:10pm first pitch, 5pm Dodgers on Deck)
April 1: Dodgers vs. Giants (5:37pm first pitch, 4:30pm Dodgers on Deck)
April 2: Dodgers @ Diamondbacks (6:40pm first pitch, 5:30pm Dodgers on Deck)
April 3: Dodgers @ Diamondbacks (6:40pm first pitch, 5:30pm Dodgers on Deck)
April 4: Dodgers @ Diamondbacks (12:40pm first pitch, 11:30 pm Dodgers on Deck)
April 6: Dodgers @ Giants (7:15pm first pitch, 6pm Dodgers on Deck)
April 7: Dodgers @ Giants (1:05pm first pitch, 12pm Dodgers on Deck)
April 8: Dodgers @ Giants (1:05pm first pitch, 12pm Dodgers on Deck)
April 10: Dodgers vs. Athletics (7:10pm first pitch, 6pm Dodgers on Deck)
April 11: Dodgers vs. Athletics (7:10pm first pitch, 6pm Dodgers on Deck)
April 13: Dodgers vs. Diamondbacks (7:10pm first pitch, 6pm Dodgers on Deck)
April 14: Dodgers vs. Diamondbacks (6:10pm first pitch, 5pm Dodgers on Deck)
April 15: Dodgers vs. Diamondbacks (1:10pm first pitch, 12pm Dodgers on Deck)
April 16: Dodgers @ Padres (7:10pm first pitch, 6pm Dodgers on Deck)
April 17: Dodgers @ Padres (7:10pm first pitch, 6pm Dodgers on Deck)
April 18: Dodgers @ Padres (7:10pm first pitch, 6pm Dodgers on Deck)
April 20: Dodgers vs. Nationals (7:10pm first pitch, 6pm Dodgers on Deck)
April 21: Dodgers vs. Nationals (6:10pm first pitch, 5pm Dodgers on Deck)
April 22: Dodgers vs. Nationals (5:05pm first pitch, 4pm Dodgers on Deck)
April 23: Dodgers vs. Marlins (7:10pm first pitch, 6pm Dodgers on Deck)
April 24: Dodgers vs. Marlins (7:10pm first pitch, 6pm Dodgers on Deck)
April 25: Dodgers vs. Marlins (4:35pm first pitch, 3:30pm Dodgers on Deck)
April 27: Dodgers @ Giants (7:15pm first pitch, 6pm Dodgers on Deck)
April 28: Dodgers @ Giants (6:05pm first pitch, 5pm Dodgers on Deck)
April 29: Dodgers @ Giants (1:05pm first pitch, 12pm Dodgers on Deck)
April 30: Dodgers @ Diamondbacks (6:40pm first pitch, 5:30pm Dodgers on Deck)