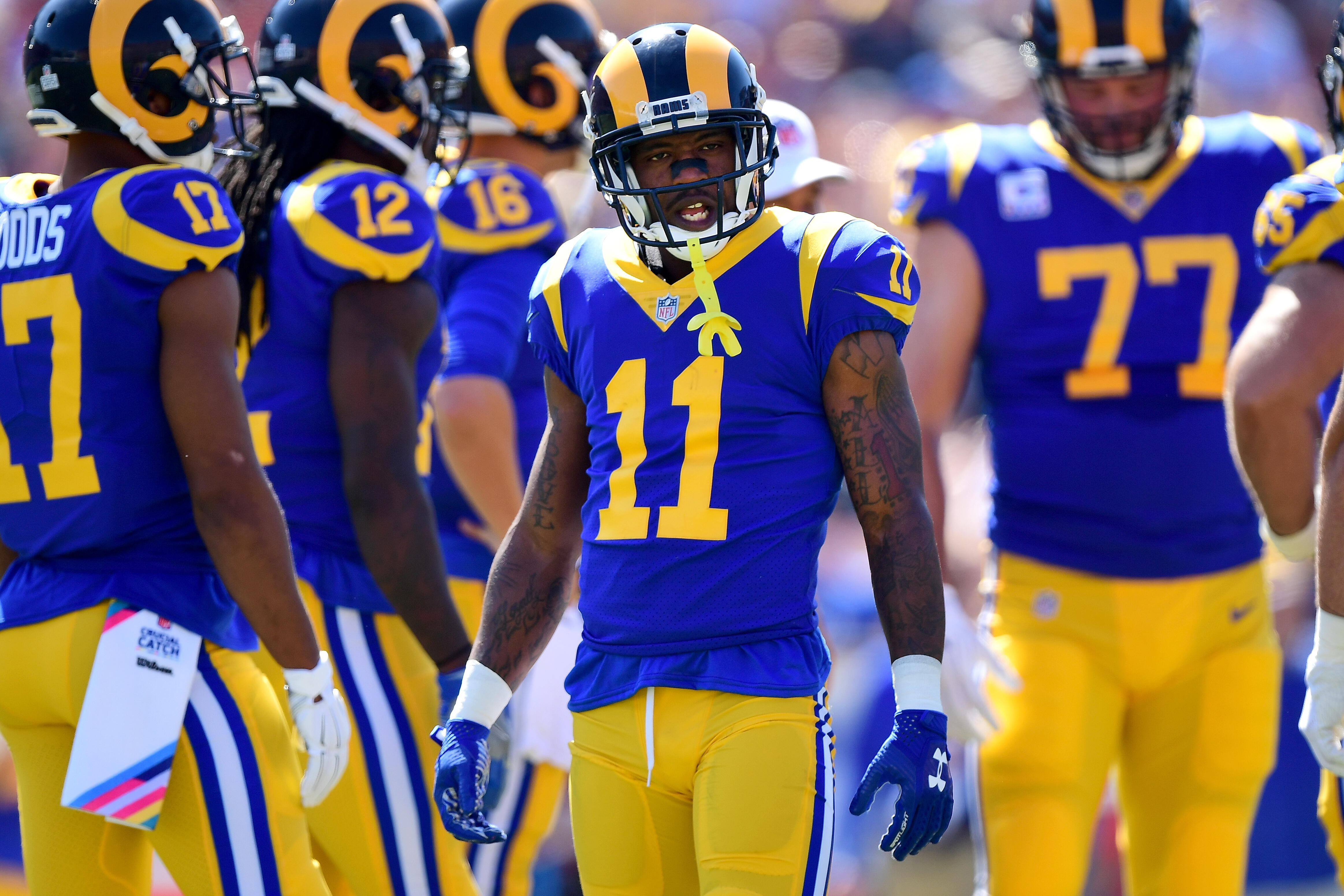 The Los Angeles Rams will part ways with former No. 8 overall pick Tavon Austin this offseason, according to a report from NFL Network's Mike Garafolo.
The team will either trade or release Austin, who was due $8 million this season.
Austin was drafted in 2013 with hopes he would carry over the electric playmaking displayed during his West Virginia career. After an impressive 2015 campaign, Austin inked a four-year, $42 million deal.
Since then, however, he has struggled and fallen down the depth chart at receiver.
Austin never matched the production from his contract year, when he caught 52 passes for 473 yards and five touchdowns, while adding another 434 yards and four scores on the ground. The next season he hauled in 58 catches for 509 yards, but he finished the year with just four total touchdowns and 159 rushing yards.
With an $8 million payday looming, last season appeared to seal Austin's fate with the team. He compiled 317 yards with one touchdown, and watched his role shrink in one of the NFL's most explosive offenses.
The Rams' 15.9-point year-to-year improvement in 2017 was the greatest in NFL history, breaking the record previously set by the 1999 Rams.
According to Rams Insider Vinny Bonsignore, Pharoh Cooper appears to be set to assume Austin's role.
Bonsignore notes that Rams head coach Sean McVay will look to expand on the role created for Austin last season with Cooper in this role. Bonsignore indicates that Cooper has proven to be a 'more powerful, instinctual runner than Austin' on sweeps and plays out of the backfield, and is in general a better receiver.
Size will be an immediate, noticeable difference. While Cooper is not one of the larger receivers in the NFL at 5-foot-11 and 208 pounds, he is more imposing and a greater asset on contested throws than the 5-foot-9 Austin.
Cooper, 22, has received limited action at wide receiver in his first two seasons, but has shown explosive tendencies both on the outside and in the return game. A prime example came Week 6 last season, as he took a kickoff return 104 yards to the house against the Jacksonville Jaguars.
In 2017, Cooper led the league in yards per kickoff return, and his punt return average ranked second.
With another year under the guidance of McVay's brilliant offensive mind, and an enhanced role with franchise QB Jared Goff, big things could lie ahead for the former South Carolina standout.