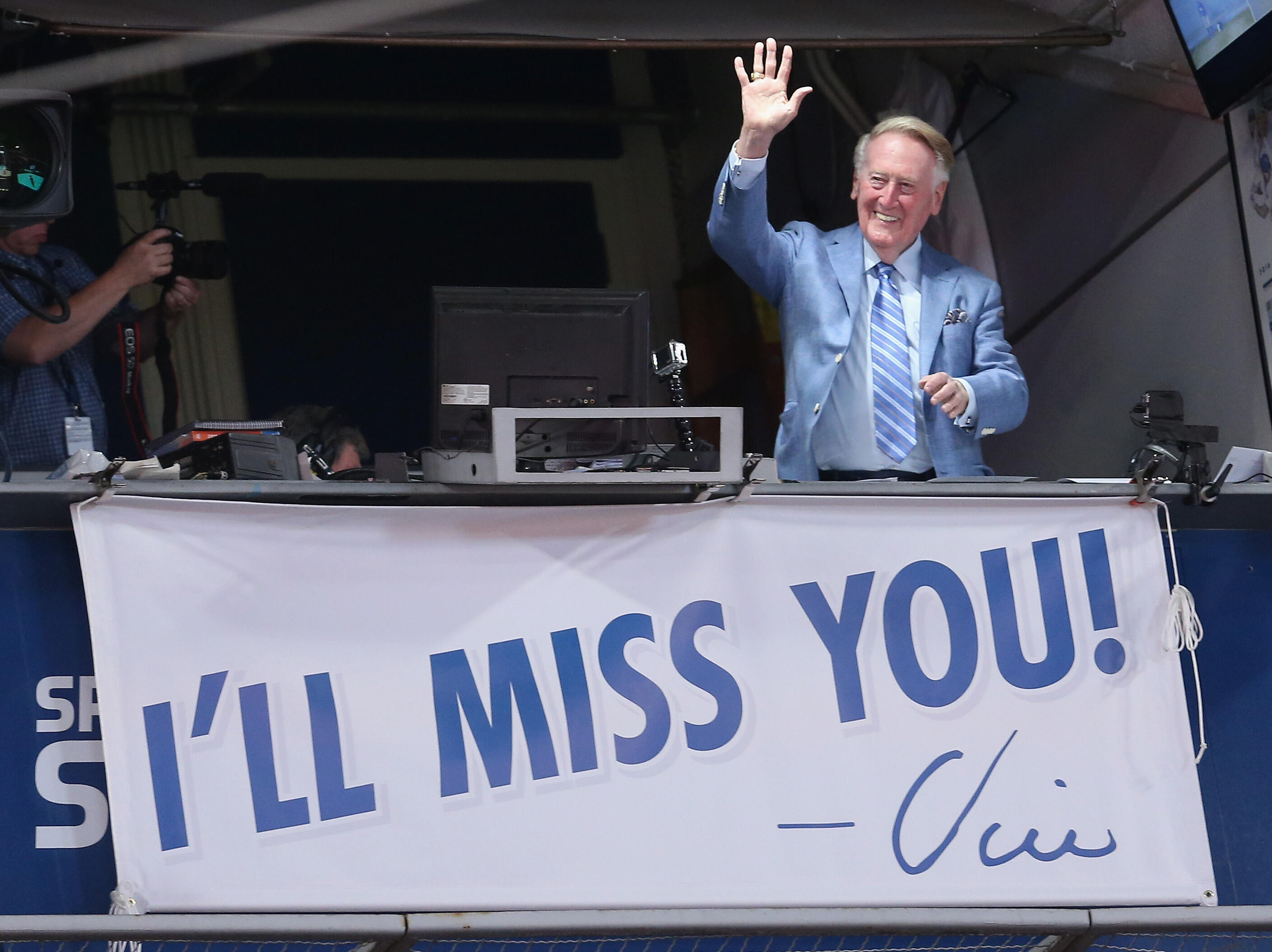 Vin Scully has yet to take in his first game at Dodger Stadium since stepping away from the broadcast booth last fall. That will change this week, as the iconic Voice of the Dodgers is set to be honored by the team prior to Wednesday's game against the Giants.
In addition to being present to welcome a legend back to Dodger Stadium, the first 40,000 fans in attendance will receive a Vin Scully Commemorative Microphone -- a keepsake for an event that will be unforgettable on its own.
"We have a big series with the Giants that culminates in the Vin Scully Ring of Honor Ceremony, and a commemorative microphone that is given to the first 40,000 fans in attendance," Dodgers VP of Ticket Sales David Siegel said. "It's a great item, and any Vin Scully fan has to be here for that. We don't want to give too much away, but just having Vin back at Dodger Stadium is going to be great, there's going to be some great former Dodgers out there honoring him, and should just be a great evening all-around."
The details may be scarce leading up to Wednesday's ceremony, but all signs indicate that it is certain to impress. Even better, it is just one of several can't-miss promotional events and giveaways coming to Dodger Stadium in the month of May.
The rest of the month features a combination of practical giveaways, unique experiences and community engagement.
One area the Dodgers pride themselves in regarding giveaways is practicality and serving the demands of fans. May 8th's Chips and Salsa Dish giveaway is a perfect example.
"The Pittsburgh Pirates come to town and we are giving away a chip and salsa dish," Siegel said. "It's perfect for summer hosting. Who doesn't need a chip and salsa dish? And a Dodger chip and salsa dish at that."
Another recurring theme for the month is celebration of community and heritage, starting with Mexican Heritage Night on May 9th, during which, fans will receive a t-shirt that Dodgers first baseman Adrian Gonzalez helped design himself.
"It's a really cool t-shirt, one of the coolest I think, because Adrian Gonzalez actually picked the design himself and it's selling really well too," Siegel said. "Aside from the giveaway, there are going to be mariachis and some other activations throughout the ballpark. Then the next day is Kenley Jansen bobblehead night, so a busy couple of home stands for the Dodgers."
Korea Night and Japan Night will also both take place in May, with shirt giveaways featuring Hyun-Jin Ryu and Kenta Maeda, respectively. In the spirit of community, the Dodgers will also recognize their own longtime home with the first-ever Echo Park night.
"[The Echo Park Night] shirt is designed by Studio No. 1, the same artists that do Obey," Siegel said. "They're actually based here in Echo Park, so it's a really cool shirt. It's one that definitely sets itself apart from the other community nights, so we're really excited to get that off the ground."
The community and heritage theme nights highlight one of the key goals of the Dodgers promotional strategy: finding a way to authentically connect with the communities of Los Angeles.
The Dodgers also offer an array of unique experiences at the ballpark, most notably the ever-popular Hello Kitty Night and Pups at the Park.
Regardless of background and personal preference, Dodger Stadium has something to offer almost every fan that comes out to the ballpark.
For the full list of Dodgers promotions -- both in the month on May and beyond -- visit dodgers.com/promotions.