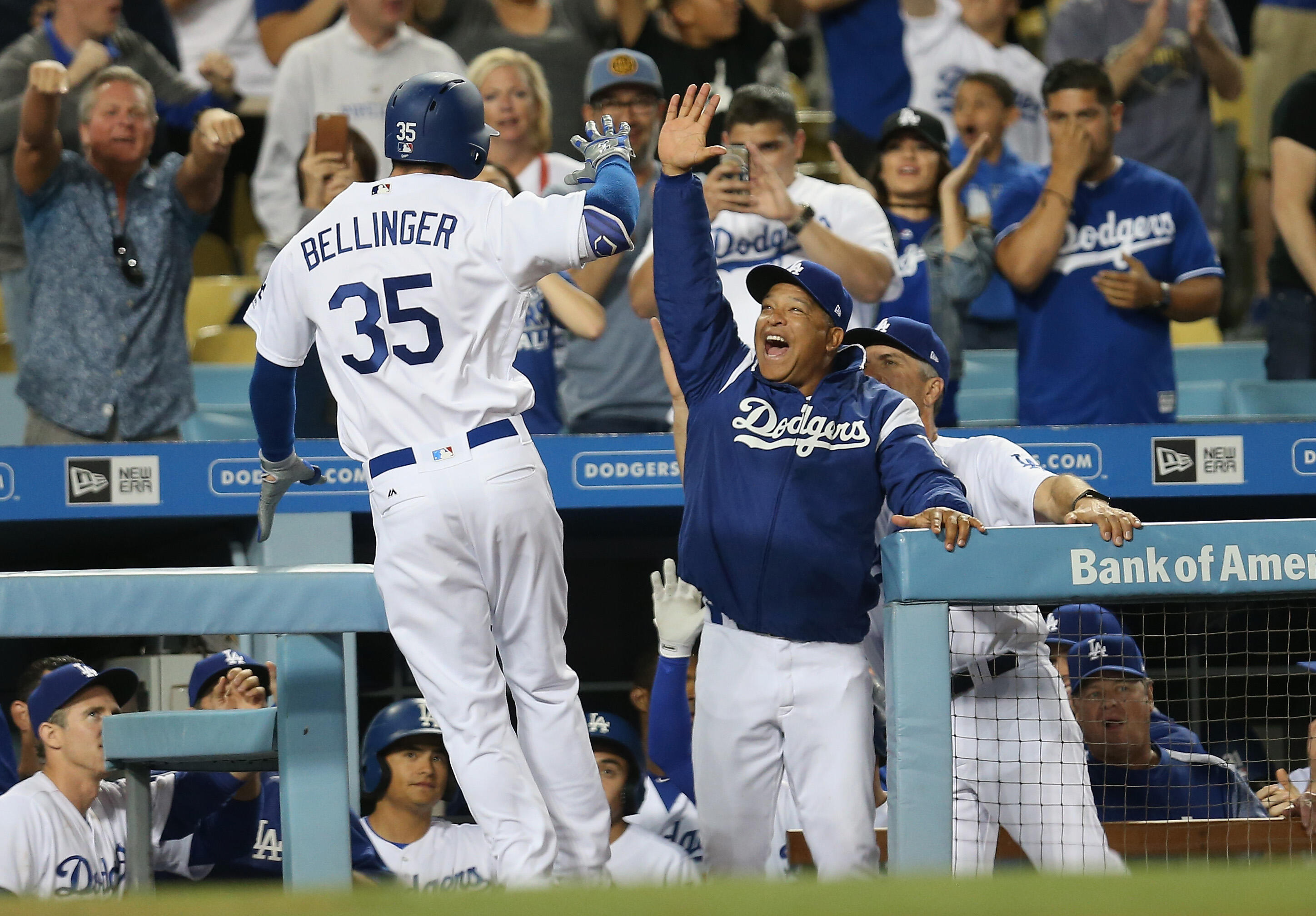 "Every swing where that bat gets in motion, something special can happen."
Cody Bellinger has gone from promising prospect to immediate contributor for the Dodgers in just one week at the MLB level. As a result, speculation has surfaced regarding what was initially intended to be a short-term stay with the big league club.
Dodgers manager Dave Roberts joined "Lunchtime" with Roggin and Rodney on Tuesday to discuss.
"He's playing well, but we have some good players coming back," Roberts said. "For Cody, we know as an organization, and I think the fans and the media have heard what we felt internally about Cody. To see him on this stage in an MLB level is exciting. He brings energy and athleticism. Every swing where that bat gets in motion, something special can happen. We'll see how it goes. He's in the lineup [on Tuesday], but we're going day-to-day right now."
One potential issue preventing Bellinger remaining at the MLB level permanently is something that goes unnoticed by most fans: the unwritten rules of baseball. In Bellinger's case, it was made clear from the start that he was called up because of injuries to other players. And as the unwritten rule goes, one should not lose their spot on the roster as a result of injury.
"There's very few guys at that age that come up and stick," Roberts said. "Yes, he is playing well, but we have good players in Logan Forsythe, we signed Franklin Gutierrez this offseason to hit left-handed pitching, so he's coming back. And obviously Joc Pederson is coming back off a year when he hit 27 homers. These guys aren't going anywhere. Cody to his credit has really come in and performed, and it just shows the depth of where we are at as an organization. But I can't predict the future, let alone tomorrow, so we'll see and reevaluate that."
While the length of Bellinger's current tenure with the Dodgers is uncertain, his impact is undoubted. On Saturday, he delivered a two-HR outburst that played an integral part in a comeback victory. Then on Monday, he complimented this power display by showing off his baseball IQ -- dropping down a bunt single to defeat an infield shift.
"It's one of those things where he just is a young player that, when you play a sport, the game comes to you. He has the ability to kind of just do what the game gives him, and right there the defenders gave him a bunt base hit," Roberts said. "In any situation, you have a better situation if you can execute that bunt to get on base. Cody is a baseball player, and what a heady play it was."
Roberts also comments on Hyun-Jin Ryu's trip to the disabled list and Monday night's ugly incident in which Red Sox fans subjected Orioles outfielder Adam Jones to racist taunts.
Listen to the full interview below.
Tune in to "Lunchtime" with Roggin and Rodney every weekday from 12-2pm