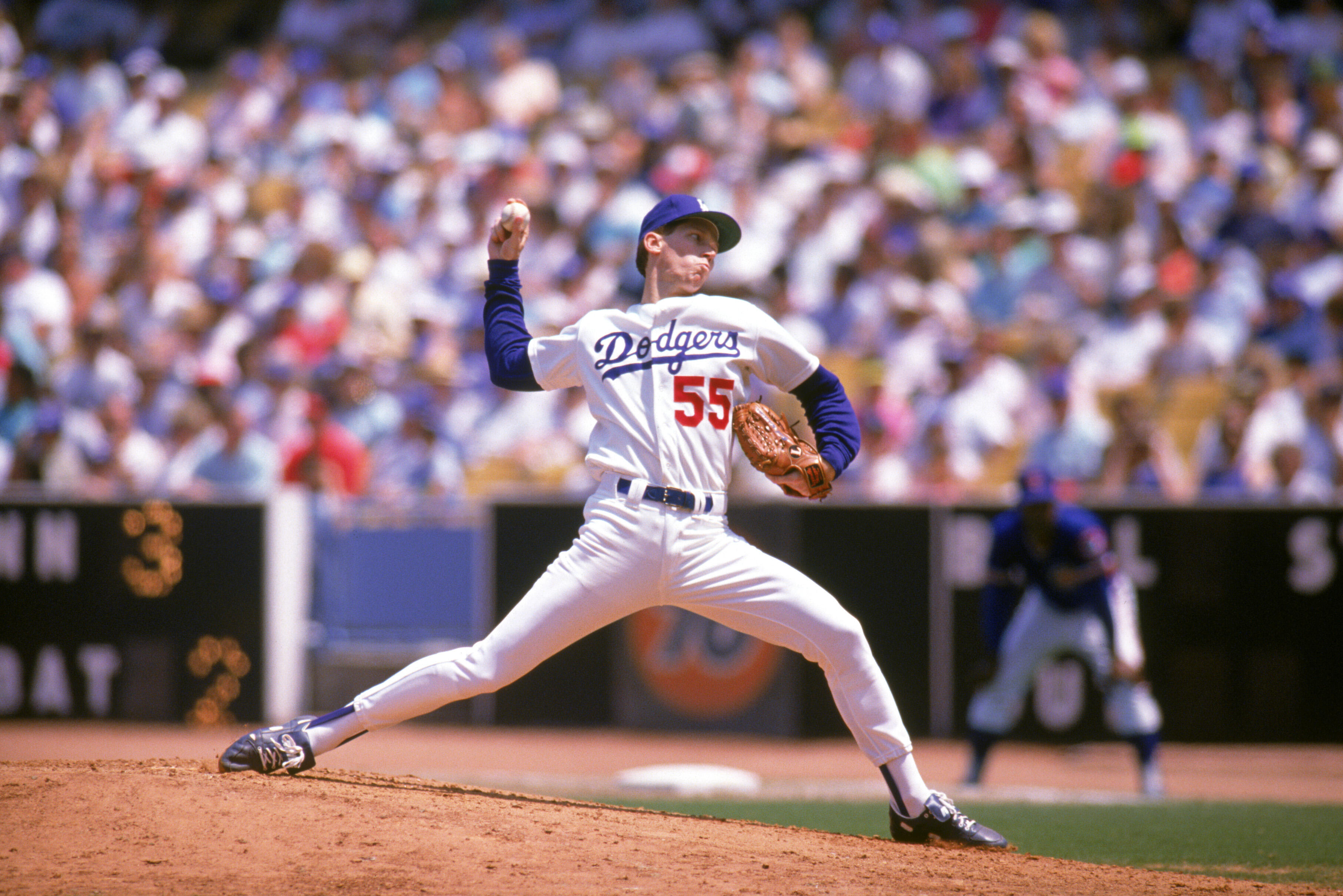 Orel Hershiser burst onto the scene with the Dodgers in 1984, and was a fan favorite throughout his tenure that lasted until 1994.
A 1988 campaign that netted a Cy Young Award and World Series MVP -- which also marks the last time the Dodgers won the Fall Classic -- cemented his status as a franchise icon. But with a record-setting 1989 season, he also made his lasting imprint on a national level.
Hershiser set an MLB record with 59 consecutive scoreless innings pitched that year, surpassing the previous record held by fellow Dodger Don Drysdale in 1968.
The Dodgers are recognizing Hershiser's accomplishment on Monday night at Dodger Stadium with the second installment of their Great Dodger Moments coin series. Here's a look back at the historic streak.
August 30th, 1989 (vs. Expos)
After Hershiser gave up two runs in the fifth inning, nobody reached base against him in the final four innings, marking the first four scoreless innings of the streak.
September 5th, 1989 (vs. Braves)
Hershiser struck out Dale Murphy four times in his fourth straight complete game.
September 10th, 1988 (vs. Reds)
Hershiser threw a seven-hit shutout with eight strikeouts and three walks, becoming the first Dodger right-hander to win 20 games since Don Sutton in 1976.
SEPTEMBER 14, 1989 (vs. Braves)
Hershiser went for another complete game shutout game on only the third occasion in 1988 that he pitched on three days rest.
SEPTEMBER 19, 1989 (vs. Astros)
Hershiser recorded his second consecutive 1–0 victory, as well as his Hershiser's sixth shutout of the season (and fourth consecutive), making him the first Dodger since 1968 to record four in a row.
SEPTEMBER 23, 1989 (vs. Giants)
This win over the Giants signaled Hershiser's eighth consecutive complete game and fifteenth total of the season. It was his fifth consecutive complete game shutout, which stretched his consecutive scoreless inning streak to 49. The victory also gave Hershiser his 23rd win of the season, the most by a Dodgers pitcher since Sandy Koufax recorded 27 wins in 1966.
SEPTEMBER 28, 1989 (vs. Padres)
Entering his final start of the regular season, Hershiser needed nine scoreless innings to tie Drysdale's streak. He got that and more, as the contest went to extra innings. Hershiser kept the Padres off the board in the 10th inning before leaving the game as the sole holder of the MLB's consecutive scoreless innings streak!
Below is the complete stat line of Hershiser's historic run:
59 IP, 0 runs, 31 hits, 38 strikeouts, 10 walks, and 3 extra-base hits
*OCTOBER 4, 1989 (vs. Mets)
The streak would also carry over into the first game of the postseason, as Hershiser posted eight scoreless innings in Game 1 of the 1988 NL Championship Series before giving up two runs in the ninth. This brought his unofficial total of consecutive scoreless innings to 67.