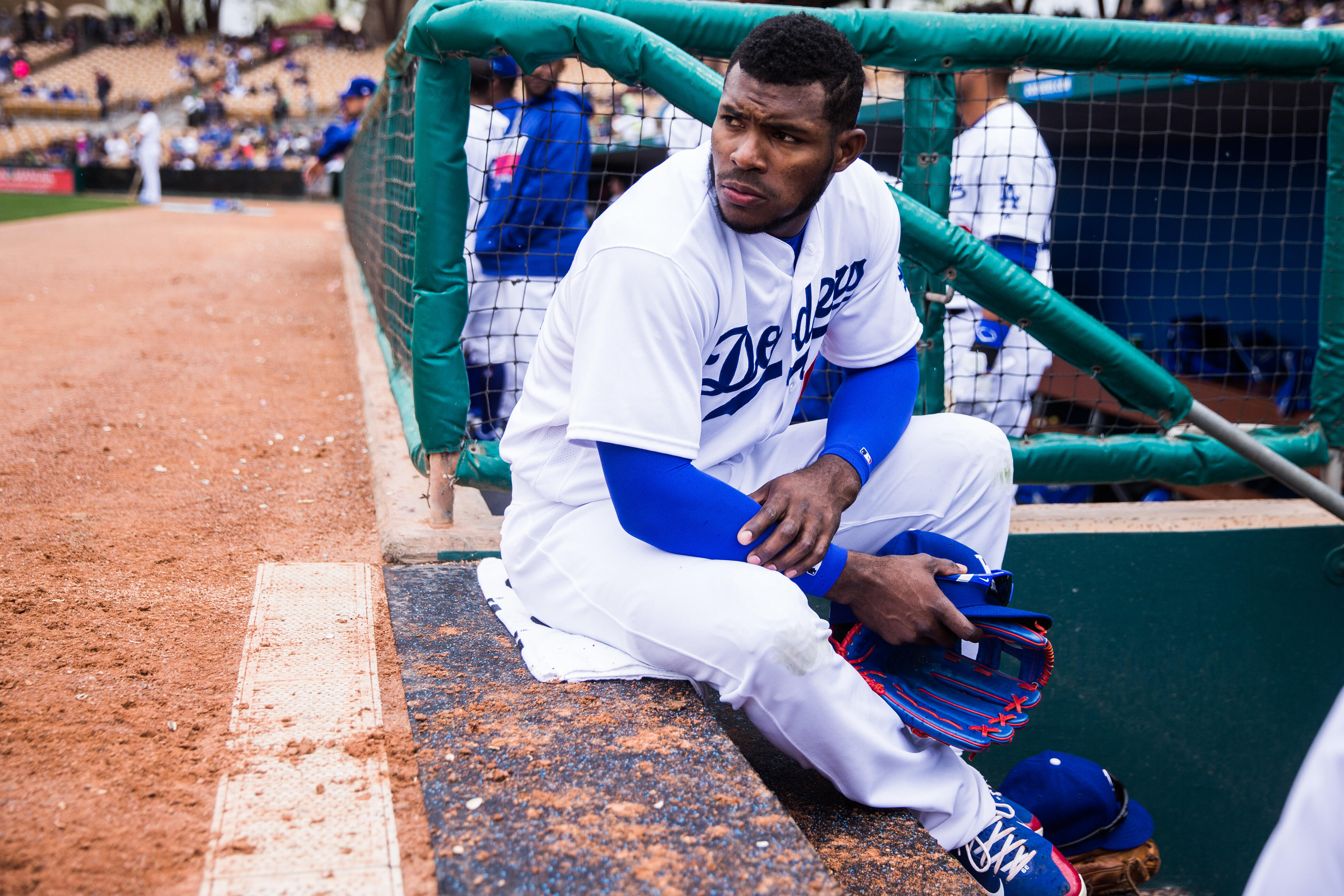 When Los Angeles Dodgers manager Dave Roberts speaks on Yasiel Puig this spring, a general sense of commitment surfaces.
Commitment to the enigmatic outfielder, and most notably, commitment from Puig that spurs optimism he can set aside a forgettable 2016 campaign and return to All-Star form.
"Yasiel is in a good space," Roberts said. "I've said it before, I think this is as good as I've seen him mentally and physically. Now it is just a matter of trusting the process."
Trusting the process is critical, and echoes a sentiment displayed from the Dodgers all offseason.
The club's free agent strategy revolved around retaining the key pieces that helped place the Dodgers within two wins of the World Series last year. They re-signed third baseman Justin Turner, closer Kenley Jansen and starting pitcher Rich Hill, then proceeded to fill needs elsewhere with the acquisitions of second baseman Logan Forsythe and veteran reliever Sergio Romo.
"Give them credit, they realize their philosophy got them this close, and they're close enough now that they don't need to make changes," Los Angeles Times columnist Bill Plaschke said during an appearance on Petros and Money. "They think they have a shot, and they've pushed all their chips in and are going for it. I love that."
Judging by the Dodgers' rhetoric throughout Spring Training, there are expectations for Puig to be an everyday fixture as they take this shot. And as the 2017 regular season inches closer, both parties appear poised to take a crucial next step.
From the perspective of a Dodgers team that was within reach of a National League pennant last fall, this means one thing: ending a 29-year World Series absence.
For Puig, the next step in his evolution is finding everyday consistency to match his rare talent. The ability to do so will likely impact his longterm role with the organization, and if discovered, could coincide with a celebration that has been three decades in the making.
"I say process as far as his preparation each day," Roberts said. "Getting in the cage, getting in his work in the training room, on the defensive of side. Preparing each day and being consistent with that. I told him yesterday that if he can stay consistent with those things and the process, I'll bet on him. I think that with his skill set, he's going to perform. But he has to be consistent with the stuff prior to the game."
The consistency that Roberts is betting on was been largely absent last year, as Puig endured his most turbulent season since arriving in the majors.
Puig lost his starting job, and was temporarily demoted to Triple-A Oklahoma City in early-August as the Dodgers geared up for the postseason. He was brought back to the big league squad for September and the playoffs, and did not overwhelm in either.
Understandably, Puig's future with the Dodgers was perceived to be on its last leg throughout the offseason.
This was a player that had burst into the majors as an immediate star in 2013, then made the All-Star Game in his first full season the following year. Puig had since appeared to regress in back-to-back seasons, though, and as this apparent regression continued, questions about the maturity required to succeed at the MLB-level became more prevalent. Comments from Puig in January, in which he suggested he wanted to be a starter with the Dodgers, 'or anywhere else', only added to the uncertainty.
Roberts has made a point throughout the spring to ensure that these questions will not linger, at least publicly. And with his performance on the field, so has Puig.
The 26-year-old is hitting .286/.348/.810 with three home runs, five RBIs and six runs scored through eight games as of Saturday morning, with Friday night delivering fans a blast from the past. Puig made three plate appearances, and the results were a pair of two-run bombs followed by a drawn walk.
Roberts' words the next day shed further light on why he expects Puig to be an integral part of the Dodgers' 2017 plans.
"I'm all in on Yasiel," Roberts said. "Physically, he's a little bit leaner, a little bit more flexible. He's giving himself a little more room off the plate, so when he gets crowded by pitchers, he gets a little more room. Mechanically, he's getting to that fastball a little bit better.
"When you start looking in and chasing in often, that's a recipe for disaster. He's been more diligent at the plate this year so far. He was on the plate a little bit last year, so now he's giving himself a few inches."
While these may seem to be minor adjustments, it should be remembered that, with Puig, it all comes down to consistency and mental preparation. Talent will never be an issue, but at this stage of his career, the mental aspect should still be considered a potential wild card.
Improved diligence is evidence that Puig is moving in the right direction. The next test, and perhaps the toughest yet, will be remaining consistent in his approach when adversity hits during a 162-game season.
"The thing is that with baseball, obviously it's a long season. There's a lot of ups and downs," Roberts said. "It's a game of failure, and the great players, the consistent players, stay the course. With Yasiel, in the past, there's been a little bit of falling off on the consistency as far as his approach and preparation. Last spring, he was a lot bigger physically. Mentally, he was in a good place. But I think, after what he went through last year, this year he's even better.
"It's not about chasing results and trying to hit 30 homers. It's about preparing each day. And like I said, we'll bet on Yasiel."
The Dodgers are approaching a moment of truth, as is Puig.
The organization is expected to cruise to a fifth consecutive National League West division title, but can they finally make the leap in the postseason when it matters? Furthermore, can Puig be the factor in such a run that his talent indicates he is capable of?
The answer to either question will not be confirmed anytime in the near future.
But as a 2017 season filled with World Series aspirations approaches, one thing remains certain: the Dodgers are betting on the pieces that have brought them to this moment — Yasiel Puig included.
Photo Credit Getty Images