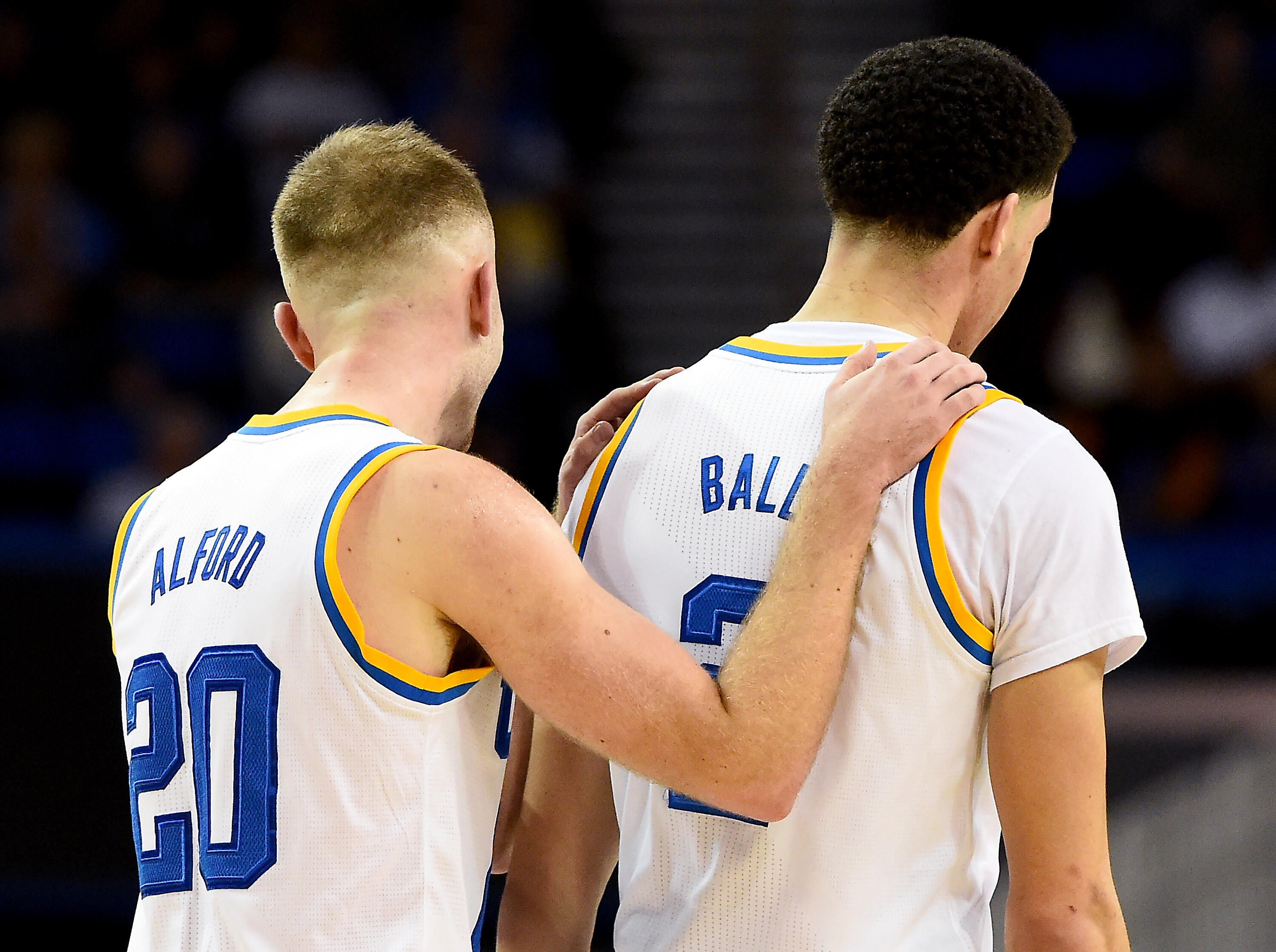 CBS Sports bracketology expert Jerry Palm joined Petros and Money last week, and provided insight into where UCLA stands as the Pac-12 Tournament approaches. Although the conversation took place last Monday, little has changed — especially as it relates to the Bruins.
One major factor that UCLA has working in its favor is that it has avenged all three of its losses this season, including a road victory over No. 4 Arizona two Saturday's ago that might have kept hopes for a No. 1 seed alive.
"It was really important to get something to balance out the loss they took to Arizona at Pauley," Palm said. "Quality wins are always good. Quality wins on the road are even better. But I thought it was important they didn't have a sweep there at the hands of Arizona, otherwise, UCLA may not have had much of a chance to push high in the bracket if Arizona had beaten them twice."
Palm also touched on where the Pac-12's current top-three powers — UCLA, Oregon and Arizona — stand in relation to each other.
"If I were to rank those three teams in terms of overall quality of their resume with winning out, Oregon would be first, UCLA would be second and Arizona would be third," Palm said, speaking purely in terms of chasing Gonzaga. "Arizona would be third because Gonzaga beat them, and that head-to-head result, if they're close, could be considered a factor by the committee. Oregon and UCLA winning out might pass [Gonzaga]. However, it's possible that they are all [two-seeds]."
Judging by the vast majority of bracketology projections, UCLA has some work to do in order to secure a No. 1 seed at the Big Dance as it heads to Las Vegas for the Pac-12 Tournament.
According to BracketMatrix.com, which compiles 127 bracket projections, the average seed for the Bruins on the eve of the conference tournament is 2.70. This ranks ninth in the country, and would thus leave UCLA as the top No. 3 seed at the NCAA Tournament.
Teams that currently average a higher seed than the Bruins are as follows:
Villanova (1.00)
Kansas (1.01)
North Carolina (1.05)
Gonzaga (1.20)
Kentucky (2.09)
Oregon (2.14)
Baylor (2.14)
Louisville (2.14)
And below is a look at where UCLA stands in some of the more popular bracketology projections:
Jerry Palm (CBS Sports): 2
Stewart Mandel (FOX Sports): 2
Joe Lunardi (ESPN): 3
TeamRankings.com: 3
There may appear to be a steep climb for UCLA at first glance, but upon further review, an ascent to a No. 1 seed is still a possibility.
Villanova is basically entrenched as a No. 1 seed, while Kansas and North Carolina should follow suit with a respectable performance in their conference tournaments. As history has taught, though, rationale has a tendency to go out the window once March arrives.
An early exit for Kansas or North Carolina would throw a wrench into the selection committee's final decision, as would anything other than a WCC Championship for Gonzaga. With Kentucky, the presumed replacement if one of these three falters, UCLA's victory over the Wildcats at Rupp Arena earlier this season would at the very least linger in the minds of the committee, and could become a de facto tiebreaker between the teams. The Bruins control their own destiny in regards to Oregon, while Baylor and Louisville must go through Kansas and North Carolina, respectively, at their own conference tournaments.
Is it an uphill battle? Absolutely.
But if UCLA runs the table through a Pac-12 Tournament featuring a pair of other potential top-10 overall seeds, Selection Sunday could take on a celebratory tone in Westwood.
Photo Credit Getty Images