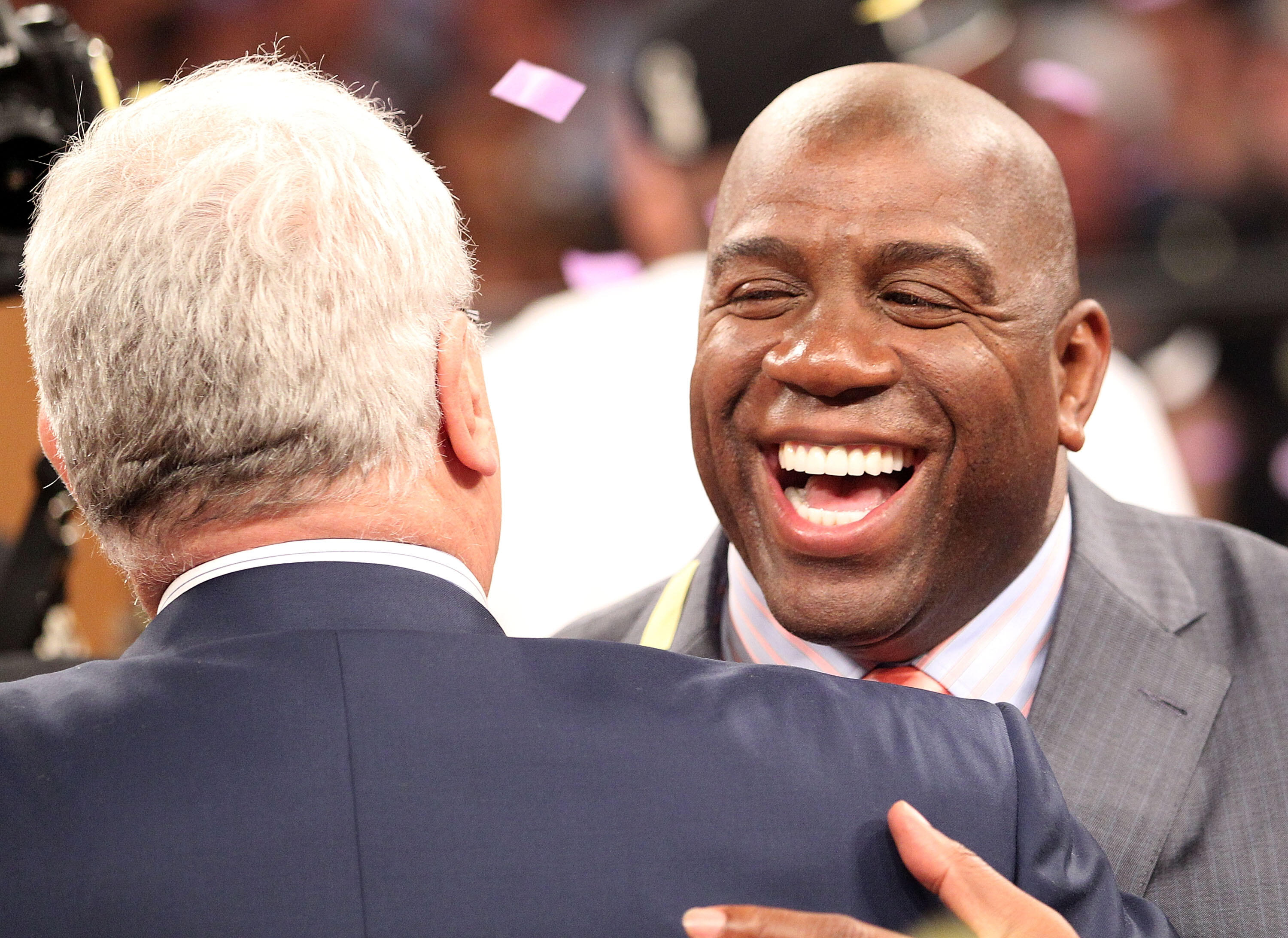 The decision to appoint Magic Johnson as President of Basketball Operations has stirred excitement for the Lakers fan base, but not all aspects of the move are eliciting a positive response.
One glaring question mark surrounds the timing of the decision, which also involved relieving General Manager Mitch Kupchak, Executive VP of Basketball Operations Jim Buss and VP of Communications John Black of their duties with the NBA trade deadline looming just two days ahead.
Forbes' Mark Heisler joined Fred Roggin and Rodney Peete to discuss the matter. Heisler revealed an intriguing theory, suggesting that the flurry of moves was a direct response to the team's failure to acquire All-Star center DeMarcus Cousins from the Sacramento Kings.
Missing out on an elite big man and longterm trade target, coupled with the fact that the Kings accepted so little in their trade with the New Orleans Pelicans, makes this theory quite plausible.
"I think there's much more to this story than they are admitting," Heisler said. "I think it was about not getting DeMarcus Cousins, and having a lot of hope around him. They've talked to Sacramento for a couple years. Then being in the bidding this time, and watching him go to New Orleans for like nothing."
Roggin believes that Monday's meeting between Johnson, Kupchak and Buss had always been "D-Day" when it comes to making a decision on the future of the now-departed Lakers executives. Heisler does not believe this was the case, but if so, calls it 'the stupidest D-Day ever.
"If it was D-Day, it was the stupidest D-Day ever. You don't do something like this three days before the trade deadline. If they decided they wanted to can Mitch, Jim doesn't make any difference, but if you wanted to do that, do it two weeks ago."
Listen to the full interview below.
Photo Credit Getty Images