Here Are All The Dodgers Who Will Be At FanFest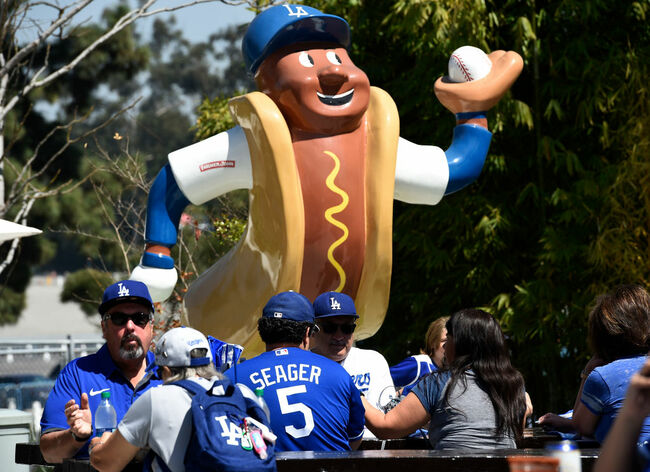 Dodgers FanFest will take place Saturday, Jan. 26, from 10 a.m.-4 p.m.! The day's activities will feature carnival games, rock wall, game inflatables and opportunity to hit in the batting cage.
Here are all the Dodgers who will be at FanFest tomorrow:
Session 1, 10:10 a.m.–11:00 a.m:
Line 1: Austin Barnes
Line 2: Jerry Hairston Jr.
3: Kenta MaedaLine
4: Orel Hershiser
Session 2, 11:20 a.m.–12:20 p.m:
Line 1: Dylan Floro and J.T. Chargois
Line 2: Alex Verdugo
Line 3: David Freese
Line 4: Cody Bellinger
Session 3, 12:30 p.m.–1:30 p.m.:
Line 1: Josh Sborz and Tony Cingrani
Line 2: Matt Beaty and Steve Yeager
Line 3: Scott Alexander and Rocky Gale
Line 4: Ross Stripling
Session 4, 1:40 p.m.–2:40 p.m.
Line 1: Dylan Floro and Brock Stewart
Line 2: Joe Kelly
Line 3: Jaime Schultz and Edwin Rios
Line 4: TBA
Session 5, 2:50 p.m.–3:50 p.m.
Line 1: Manny Mota and Dennis Santana
Line 2: Walker Buehler
Line 3: Adam McCreery and Keibert Ruiz
Line 4: Chris Taylor
Jr. Dodger autographs
Session 1, 11:00 a.m.-12:00 p.m.
Line 1: Matt Beaty
Line 2: Rocky Gale
Session 2, 1:00 p.m.-2:00 p.m.
Line 1: Dennis Santana
Line 2: Keibert Ruiz
Session 3, 3:00 p.m.-4:00 p.m.
Line 1: Edwin Rios
Line 2: Jamie Schultz
FanFest tomorrow will take place tomorrow regardless of weather.