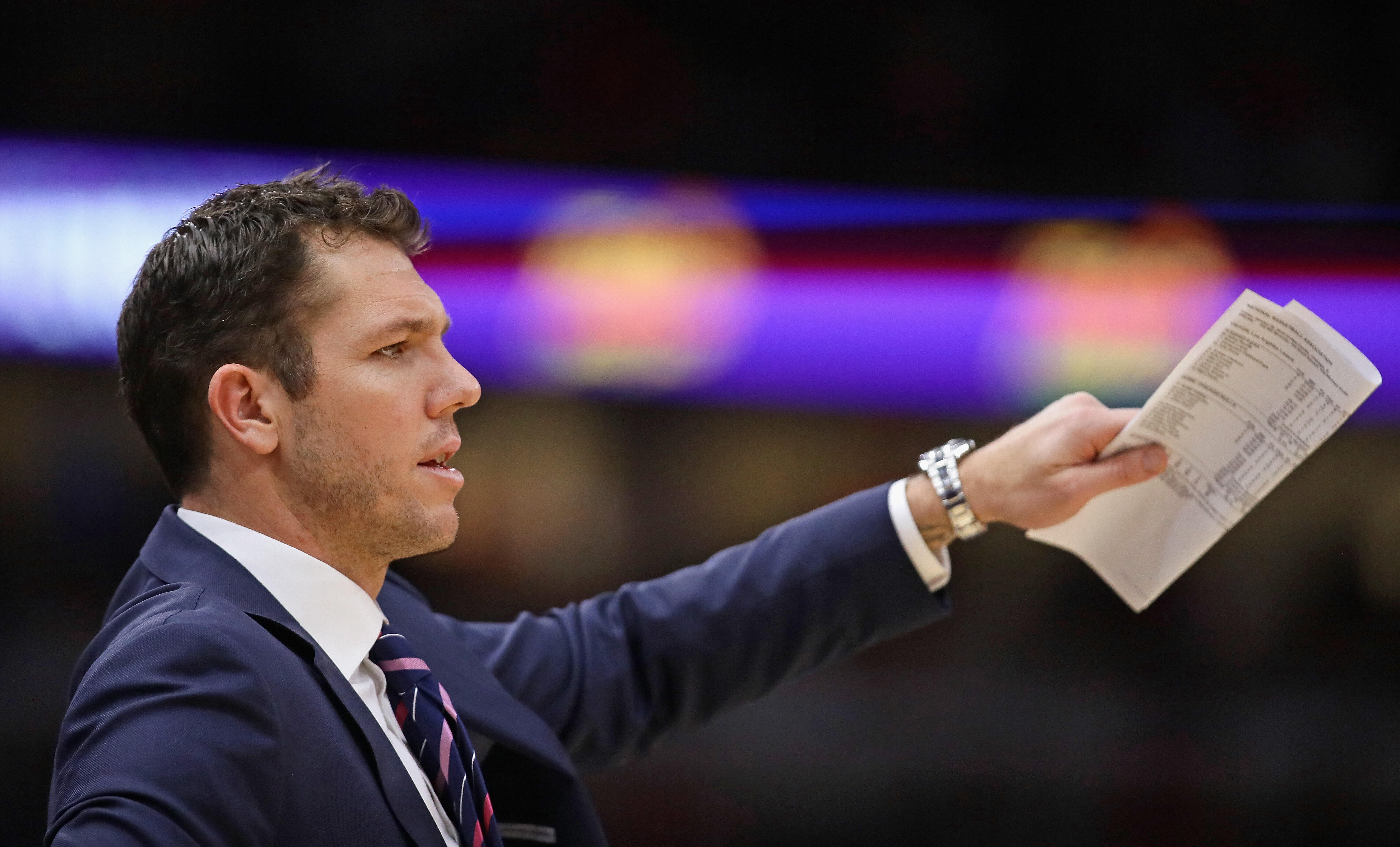 The Los Angeles Lakers have looked like a different team since Lonzo Ball returned to the court on Feb. 23, rattling off four consecutive wins.
This run has included perhaps the most impressive victory of the season for the Lakers, a 131-113 blowout of the Heat in Miami on Thursday. With eight points, seven assists, six rebounds and six steals, Ball was the best player on the court according to Lakers head coach Luke Walton.
Walton joined Dan Patrick on Friday morning to discuss Ball's performance, as well as a lofty defensive goal he has set for his team to close out the season.
"He set the tone for us defensively. I have a goal, a challenge out to our team post-All Star to be a top-10 defensive squad for the last 25 games, and he set the tone for us last night. He was flying around the court making unselfish plays on both ends."
Walton also discussed the play of Isaiah Thomas, who has seemed to gel playing alongside Ball the past few games, before diving into some less serious topics.
Among those was the last time Walton, a two-time champion as a Lakers forward, played-full court — and why he's strictly a half-court player now.
"If I play full court I can't walk for like two weeks."
The discussion then turned to who would win a one-on-one tournament between NBA head coaches.
Walton claims that he is '100% the one-seed,' which at just 37 years old, is difficult to argue. Asked about other potential No. 1 seeds, Walton mentioned that Cavaliers head coach Tyronn Lue and Fred Hoiberg of the Bulls would be in the discussion.
Given James Harden's recent legendary crossover, Walton also gave a funny response when discussing why nobody could ever break his ankles like that.
"I was too slow to get crossed all over like that. If you crossed me over, you probably just ended up right back in front of me because I hadn't reacted to your first move yet."
Walton closed out the interview with a hilarious story about the time he posterized former teammate Ronny Turiaf, and the custom piece of memorabilia he made to commemorate the moment.
While the Lakers have struggled on the court for the majority of the season, taking in their share of losing streaks and embarrassing defeats, there is something to be said about the team's response to Walton's late-season challenge. The Lakers are making undoubted steps forward with a pivotal offseason approaching, and the head coach has earned his share of the credit. Continued success over the final stretch can only help their chances in free agency this summer, with LeBron James, Paul George and others set to hit the market.
Listen to the full interview below, and tune in for The Dan Patrick Show everyday from 6-9am.