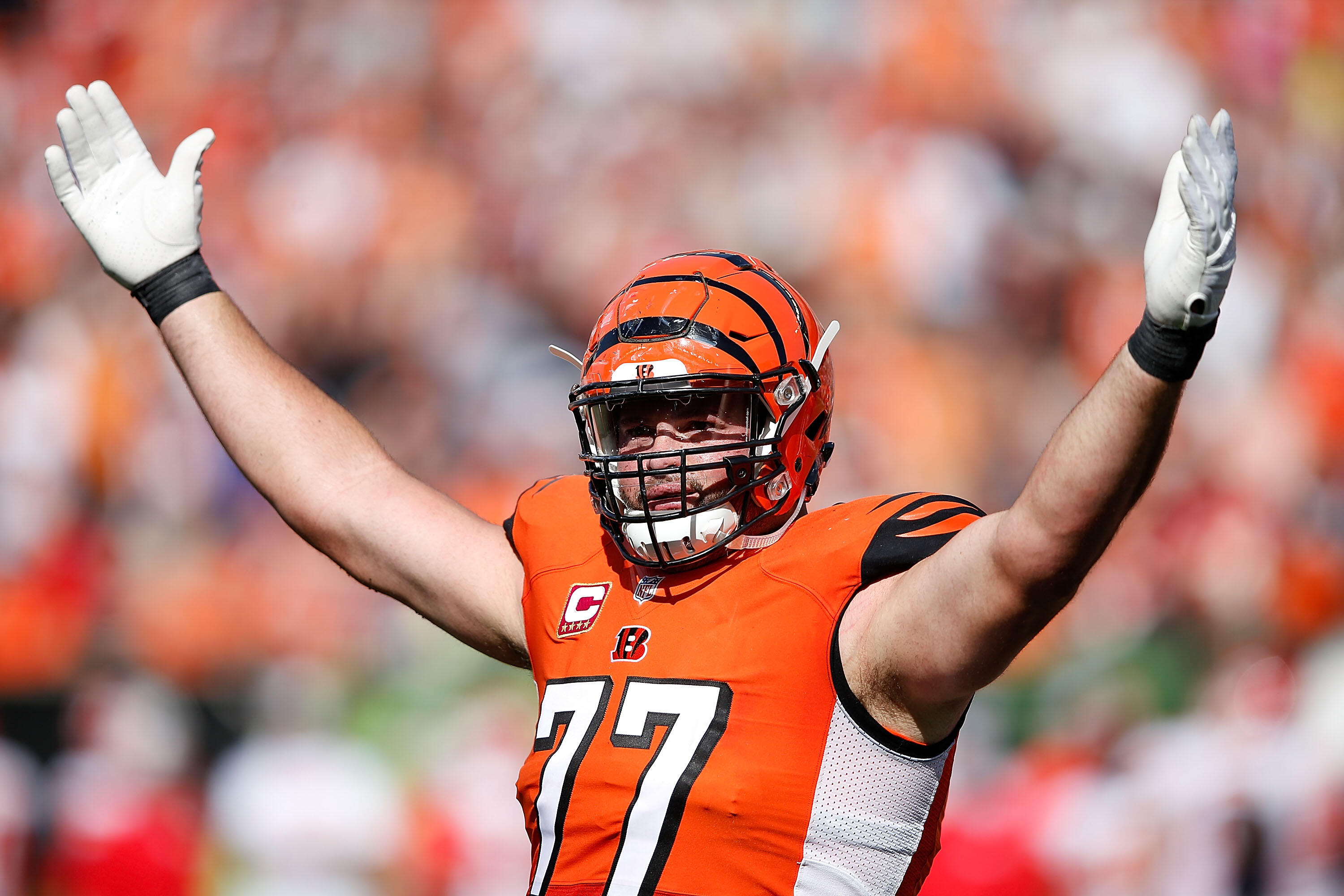 THOUSAND OAKS — It was a simple gesture, nothing more than a few words of instruction from one player to another. But the poignancy and significance of the moment weren't lost on Rob Havenstein upon getting a quick visit recently from new Rams left tackle Andrew Whitworth.
The unsolicited manner in which Whitworth approached Havenstein was incredibly telling, and that stood out to Havenstein. As it should for the rest of the offensive line and the Rams in general, for that matter.
See, there are multiple reasons the Rams targeted Whitworth, 35, in free agency this offseason – above and beyond his All-Pro caliber play, which will be a revelation to a young, struggling offensive line – and reeled him in with a three-year, $36 million contract.
The qualities the Rams coveted in Whitworth extend beyond his personal performance, which is rated among the best at his position in the NFL. Chief among them are his veteran leadership, work ethic and the non-threatening manner in which he serves up wisdom and perspective in easy-to-swallow spoonfuls rather than forcing it down someone's throat.
Whitworth is, as one Rams executive recently pointed out, exactly what the youngest locker room in the NFL needed.
And some of the dynamics have already begun to surface.
"It is early but you see it right away," new Rams coach Sean McVay said. "You get around him – even for me when you're talking to him from a player's perspective, on some of the things that you want to handle with the team. He's been a great sounding board for me. Just watching the way he communicates with his teammates. How receptive he is to Coach (Aaron) Kromer's techniques. He certainly knows what it looks like. He's played at a Pro Bowl level the last couple years. We feel very fortunate to have him. His presence has definitely been felt on our offense."
As Havenstein recently discovered.
The Rams were going through a practice during Organized Team Activities, and after a complete overhaul of the coaching staff from last year, veterans and rookies alike were trying to get a handle on their new responsibilities. Whitworth included, given his newness to the franchise and learning to play left tackle in McVay's offense.
In other words, Whitworth had plenty stacked up on his own plate, let alone keeping a watchful eye on his linemates. And on this particular day, the move Havenstein is making from right tackle to right guard was getting the best of him.
Little did he know, he wasn't fighting this battle alone. A few feet to his left, Whitworth detected the frustration and anxiousness in his new teammate.
"And without me even asking, (he) came over to me and (said): 'Hey, think about this: As soon as you set, think about this, and that will put you in the right position to then do what you need to do rather than thinking about 100 things at once,'" Havenstein remembered Whitworth telling him.
Simple. But powerful.
"And that's without me even asking him," Havenstein said, appreciatively.
And it perfectly sums up the attributes the Rams went looking for this offseason in bringing in a handful of veteran players through free agency.