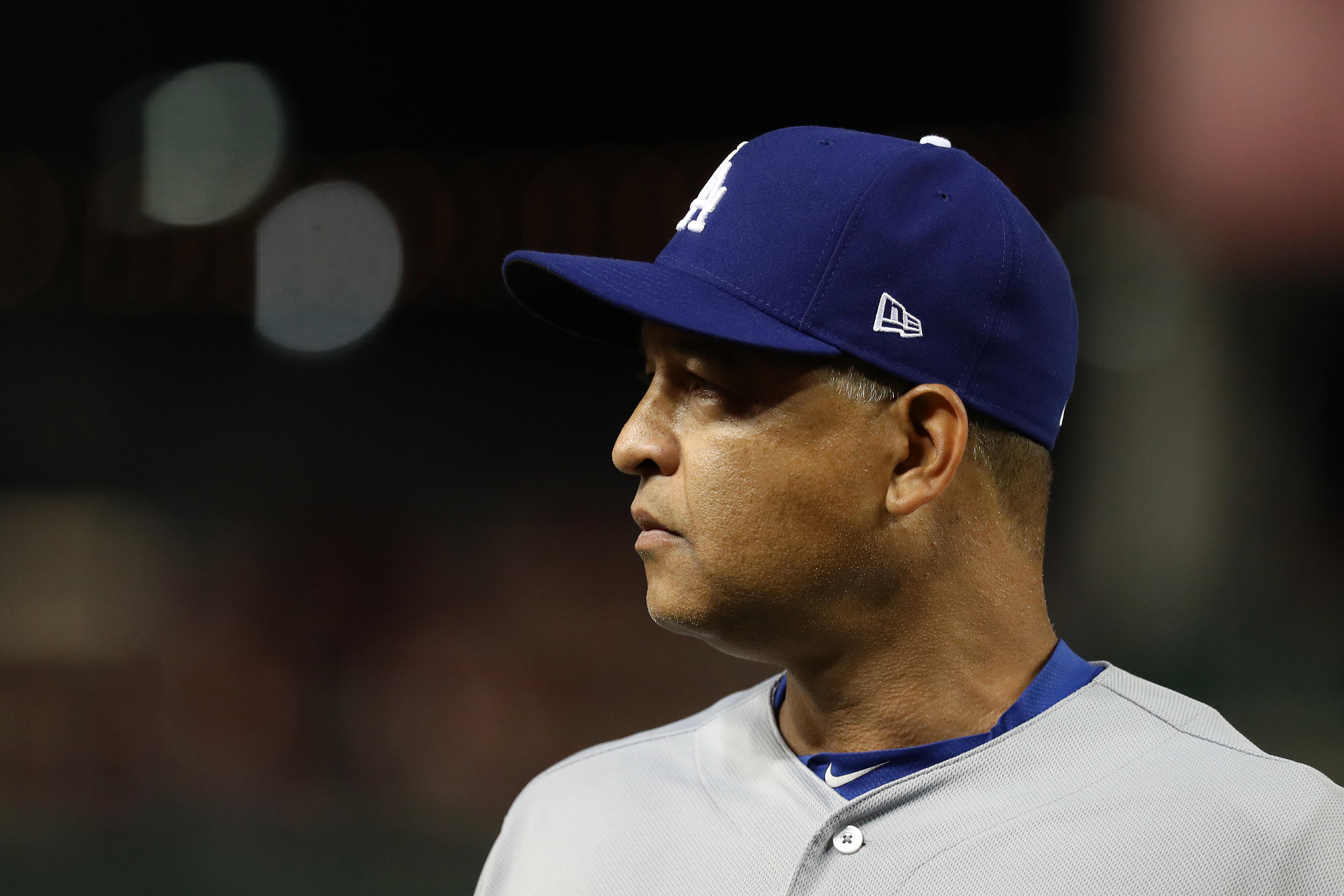 (Photo: Getty Images)
Friday's UCLA Night at Dodger Stadium will mark one of the most-anticipated Dodger games of 2017 for the Bruin faithful. College friends and strangers with common ground will convene for an evening of camaraderie and celebration of school pride, before walking away with a co-branded Dodgers cap bearing UCLA's logo.
With Dodger Stadium's first statue now present honoring Jackie Robinson -- the legendary Dodgers shortstop that broke down baseball's color barrier, and perhaps UCLA's most recognizable social and sporting icon -- the night will take on a special tone for many in attendance.
For Dodgers manager Dave Roberts, a UCLA alum and the first minority manager in franchise history, this culmination carries a unique significance as well.
"My real love for baseball started when I got to UCLA. That's where I understood this potentially could be a career," Roberts said. "Every single day when you see that Jackie Robinson statue, and know you play at Jackie Robinson Stadium, you just realize the honor and opportunity you have.
"I never forgot that. And as I learned more stories about Jackie`Robinson as I spent more years at UCLA, it just made me really aware of my responsibility as a minority baseball player, and going forward as a coach and manager for the Dodgers. I owe a lot of that to my father who passed, but also my time at UCLA."
Roberts spent four years at UCLA, starred on the baseball team and left as the school's all-time leader in stolen bases. He would then go on to enjoy a respectable MLB career, highlighted by a brief but critical role in helping the Boston Red Sox break their 86-year World Series drought. Roberts has since returned to Southern California and surged through the coaching ranks, where after claiming National League Manager of the Year honors at age 44 in his first season with the Dodgers, is in position to help another team end its absence from the Fall Classic.
Looking back in 2017, it is difficult to imagine that this career almost never formulated.
Roberts' time at UCLA got off to a strong start, but a notable junior slump put a promising outlook in jeopardy. Then, a drastic one-year turnaround occurred in which he jumped in batting average from .296 to .353 and stole 45 bases -- 17 more than the season prior. The end result was a 28th round draft selection by the Detroit Tigers, quite the improvement from falling all the way to the 47th round one year earlier.
Roberts credits longtime UCLA baseball coach Gary Adams with putting him back on trajectory at this crucial moment.
"It was Coach Adams. As discouraged as I was after my junior year, he really motivated me to become a better player," Roberts said. "Without my time at UCLA and around Coach Adams' influence, I wouldn't have been a major league player, let alone a major league manager right now."
Fast-forward more than two decades later, and Roberts is one of the rising stars in professional baseball's managerial ranks. Ironically, he's attained this status at a Dodgers organization that is intertwined with the history of Los Angeles -- just as Jackie and UCLA are.
This connection, subliminally or not, has served as a source of inspiration throughout the journey. And while expectations and surroundings have changed along the way, the drive to make UCLA and Jackie proud has not wavered.
"I know that Jackie was very proud about his time at UCLA and how that university embraced him, and I feel the same way" Roberts said. "Speaking just as a former Bruin student, there is a lot of pride in knowing that one of the great social icons in our lifetime spent his college years at UCLA. I feel that responsibility to do right by both the UCLA faithful and Jackie. He paved the way for a lot of people, and for me to continue to extend his legacy is a big responsibility that I take a lot of pride in."
Click here for the latest Dodgers news, interviews and analysis