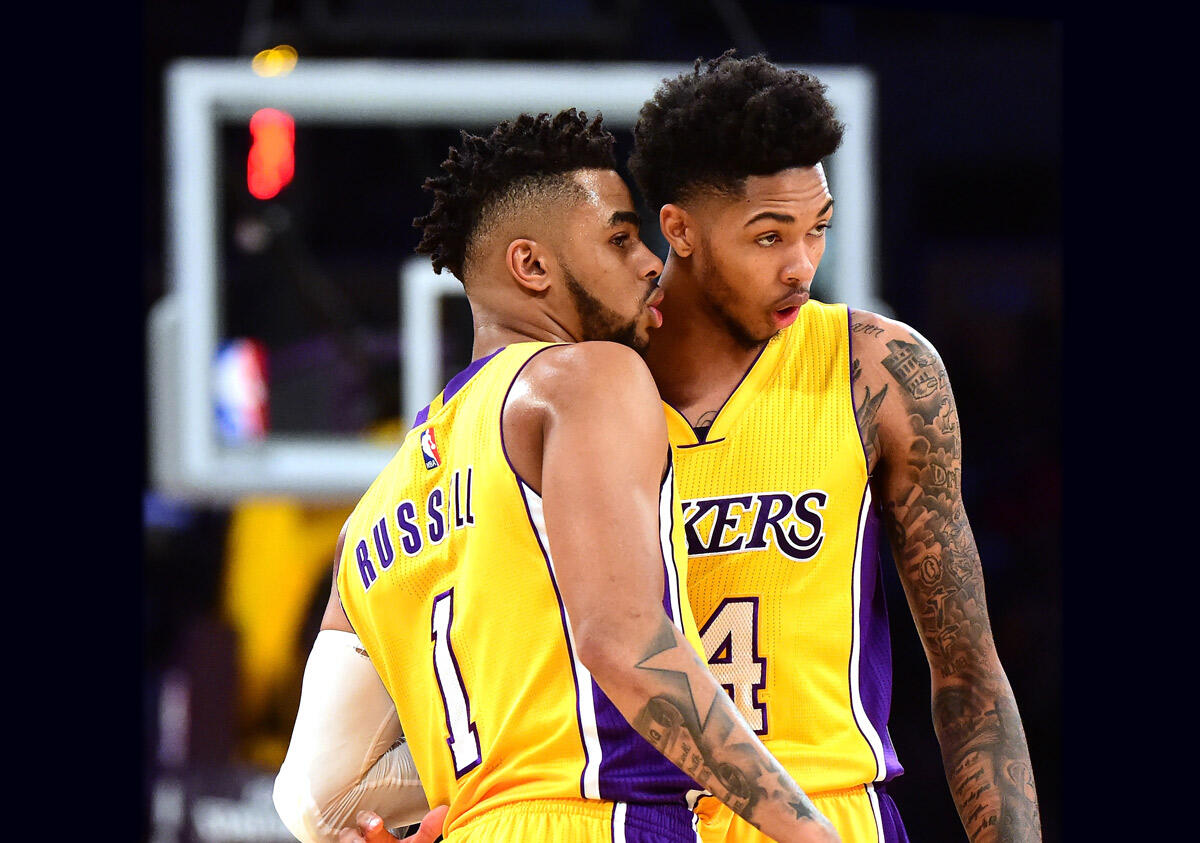 With the Lakers failing to hit the 30-win mark for the fourth consecutive season, the focus surrounding the organization has naturally shifted to a crucial offseason.
There is the possibility of landing a top-three pick in the upcoming NBA Draft that could dramatically shape the Lakers' future, but there are also a handful of young assets that general manager Rob Pelinka must make decisions on in the coming months.
Lakers Insider Mark Medina joined Fred Roggin and Rodney Peete to provide offseason insight in the aftermath of the team's exit interviews last week.
"On one hand, [Pelinka] is going to be aggressive in trying to come up with deals to upgrade this team," Medina said. "But he is very mindful that you aren't going to make a trade just for the sake of making a splash. It has the be a good deal. He likes this young core as far as their potential, but they're giving these guys a laundry list of things to work on to improve their game.
"If I had to guess, there are definitely going to be changes made. But as far as who stays and who leaves, it's obviously hard to tell at this point."
An abundance of uncertainty and no definitive face of the franchise going forward appears to have left the Lakers in a situation where no player is untouchable at the moment.
"No one is safe," Medina said. "They don't have a Kobe Bryant on the team anymore, so everyone is on the table right now."
There is a sense that more about the Lakers' plans will unfold following the NBA Draft lottery.
The Lakers finished the season with the third-worst record in the NBA, leaving them with roughly a 47 percent chance of securing a top-three pick. Because the pick is top-three protected, the Lakers will lose the pick to the 76ers if it falls outside the top-three.
One draft prospect that has remained constantly connected to the Lakers -- primarily through speculation, proximity and an overly vocal father -- is former UCLA point guard Lonzo Ball.
As a local high school and college star, there was initially an outpouring of excitement surrounding the possibility of the Lakers drafting Ball. With his father LaVar continuously forcing his way into the spotlight with bold and sometimes out-of-line statements, though, Lakers fans have grown less optimistic about the prospects of drafting Lonzo.
While LaVar's antics may have grown tiresome, however, it is highly unlikely they will impact his son's draft stock in any way.
"The sense I get around the NBA is that the guy is talented. It's not like his dad is going to deter any team from drafting him," Medina said. "But I know that in professional sports, that's not going to fly as far as being a helicopter parent, questioning the team and that sort of thing. So if they draft him, that is something they are going to immediately address."
Listen to the full interview below, and for more Lakers insight, follow Mark Medina on Twitter at @MarkG_Medina.