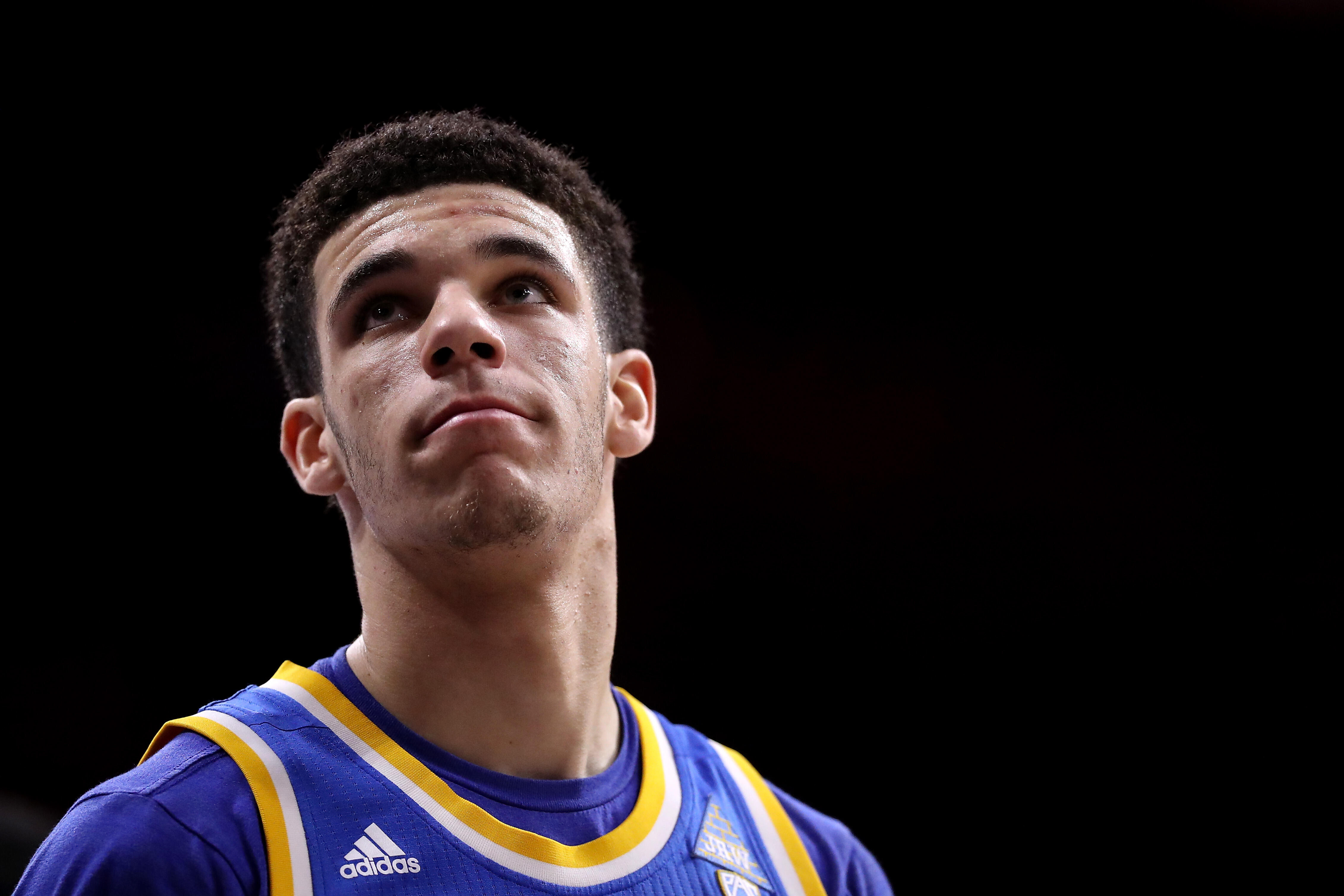 UCLA freshman point guard Lonzo Ball wasted no time establishing himself as the latest one-and-done sensation to grace college basketball with his brief presence.
In his first game in a Bruins uniform, the 6-foot-6 point guard out of Chino Hills showed why he was heralded as the top high school prospect in the state of California. As UCLA cruised to a 119-80 victory over Pacific, Ball registered 19 points, 11 assists, eight rebounds and two steals with just one turnover in 34 minutes. He also delivered a handful of awe-inspiring plays that would foreshadow a season filled with regular highlight reel appearances on a national scale.
Sure, this was just one game, against a highly inferior opponent that won 11 games all year and finished second-to-last in the pedestrian West Coast Conference. It was also something -- albeit impressive -- that we had seen before: a supremely talented freshman with game-changing athleticism that would have likely never stepped foot on a college campus if not for a fateful alteration to NBA Draft requirements.
But as the season wore on, it became increasingly clear that UCLA had found itself a rare, transcendent talent that was hardly your typical five-month rental.
Ball continued to implore his dominance over the course of the regular season, and as the Bruins joined the ranks of legitimate national title contenders, his stock ascended to the top of NBA Draft boards. UCLA finished the regular season at 28-3, its best record since the 2007-08 team that matched this mark on its way to the Final Four. In the meantime, Ball has earned a spot among the finalists for the coveted Naismith Trophy, honoring the top player in college basketball.
And despite all of this, just two games into what has the potential to become an iconic tournament showing, there's a sense that the best has yet to come.
It's the little things that separate Ball from the standard one-and-done player that college basketball has become so accustomed to.
College basketball analyst Doug Gottlieb, who will be leaving CBS Sports for FOX Sports Radio and FS1 next month, was blown away by Ball's Round of 32 performance against Cincinnati -- a 79-67 victory that launched the Bruins into a Sweet Sixteen showdown with Kentucky. Ball finished the night with 18 points, nine assists, seven rebounds, two steals and a lone turnover, but it was the intangibles that stood out.
During an appearance on Petros and Money this week, Gottlieb relayed this sentiment when discussing how the Bruins, led by the Ball, turned a three-point deficit at the half into a double-digit victory.
"He was amazing [against Cincinnati]. Amazing," Gottlieb said. "He's been good before, but it feels like he's kind of matured before our eyes. At halftime, he goes in and it's a close game. In the second half, the difference between Cincinnati and UCLA was Zo being far and away the best player on the court. He was toying with them. His change of speed, change of direction. His control in transition.

"They get easy shots. While everyone else in basketball is fighting to find a way to squeeze blood out of a rock and get a point, he's getting them easy shots."
This maturity, which seems to grow with each performance on a bigger stage than the last, is what makes him different -- and gives the Bruins a realistic shot at cutting down the nets on April 3rd.
The current era of the sport often breeds young stars that lack the mental fortitude to match their talents, which in turn, has a tendency to haunt some of the nation's most skilled teams. UCLA's next opponent is a perfect example.
In head coach John Calipari's eight years at Kentucky, he has hauled in the top recruiting class in the country, according to the 247Sports Composite, on six occasions. The other two years, the Wildcats narrowly finished behind Duke in the No. 2 slot.
Within this span that has seen an astonishing 21 Wildcats become first round draft picks, however, Calipari has claimed just a single national championship. While one title is nothing to scoff at, it is telling that mentally lapses have had a tendency to be his team's Achilles' heel in these big moments.
Lonzo Ball does not appear to have this problem. He has displayed poise beyond his years throughout the season, which is evidenced by how a teenager has elevated a UCLA team that won 15 games a year ago into a bonafide championship contender.
And with the bright lights turned on, it is as if he has never been more comfortable.
For more UCLA basketball insight, check out this week's "10 with Tim" podcast
Photo Credit Getty Images